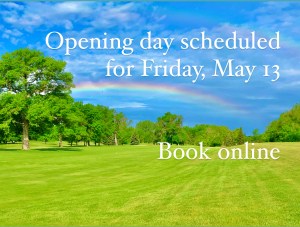 Ian and his Crew are working hard to pump the water off the course and now starting to cut and prep the greens which are looking great.  If all goes well and we do not get much rain this weekend the course should be good to for Friday.
Please keep in mind that the ability to get Carts on the course or have Cart Paths Only will be determined the day prior until the course fully dries out.  A notice will be sent out if there are going to be restrictions on Carts.
Since many of you have been booking already your tee times stand, except for Thursday, May 12th which will be cancelled.
Range:
The Range still lots of water on it and will not open at this time.  We will update everyone when the Range will be open in the coming days.
Club Storage:
Club Storage is now open for Members to drop off their clubs for the season.  All Storage is now renumbered so please let the Pro Shop know the stall you are using for 2022.
Hours for drop off are Monday to Saturday, 10am to 4pm until the course opens.